Imagine you get to work one day, power up your computer, and begin working. As you grab a second cup of coffee, your screen freezes. You reboot your computer but get the same result. You call IT and learn there's an outage with a key application you need to do your work. Now what?
Unfortunately, events like this one happen all too often. Power outages, tornadoes, floods, cyber-attacks, and other types of disasters occur and can threaten your business operations. Unless you have a thorough Disaster Recovery Plan and test it regularly, any of these manmade or natural disasters can cost you money, customers, and, perhaps, even your business.
When you partner with us, we'll help you plan an appropriate emergency response and ensure you're following appropriate backup procedures so you are ready whenever a disaster occurs. You won't have to worry about losing your data or figuring out the most critical systems that need a quick recovery. Give us a call today to start planning your technology recovery strategies.
1. What Is a Disaster Recovery Plan?
A Disaster Recovery Plan (DRP) is essentially a playbook to use in the event of a disaster or an emergency. For example, if one of your critical systems or applications goes down, it needs to be restored quickly and efficiently to minimize the impact on your business processes. The DRP documents a step-by-step procedure for recovering systems and data.
It's important to note that the DRP is a living, breathing document. As things change in your infrastructure, such as personnel, systems, and applications, you should document it in your plan.
Additionally, business continuity and disaster recovery planning go together. Disaster recovery drills down into your critical systems and applications. It creates a recovery process that determines where your data lives and which systems need to be up and running first. This way, you have a strategic plan that lessens the impact on your business and brings everything back up in order of necessity.
2. What does a Disaster Recovery Plan include?
A DRP should include the most critical systems of your business – such as your network infrastructure, the applications you need to conduct business, or even those needed to recover core business services. It is an IT-driven recovery plan for your IT department.
A DRP won't necessarily encompass all the departments of your organization – unless your organization is required by regulation to have business continuity across all departments.
In any case, a DRP  will help with a smooth and rapid restoration of your networks, computers, and applications your departments need to do their job.
3. Why Do I Need a Disaster Recovery Plan?
A detailed Disaster Recovery Plan is necessary because disasters are bound to happen. You never know when a natural disaster will strike, a key vendor will experience an outage, or your system could under a cyber attack. Without a plan to restore critical systems and routine operations, you could face financial and reputational loss.
With a good disaster recovery plan, you simply pull out your playbook, and it will have everything you need, such as:
Defined roles and responsibilities
Steps for responding to the emergency or disaster
Identification of events that require recovery
Identification of critical systems and applications
Steps and timeframe for recovery
Contact information for all key responders and stakeholders
4. What Happens If I Don't Have a Detailed Disaster Recovery Plan?
If you don't have a Disaster Recovery Plan and Business Continuity Plan, and a disaster strikes, you're not going to know what steps to follow in what order, what's the most critical thing to restore, and what's something that can wait. You also probably won't know how long it will take to have your data or systems restored, so you won't know what to tell your employees and customers. It could even make it difficult to get insurance coverage.
5. How Is Disaster Recovery Different than Incident Response?
A Disaster Recovery Plan is how you respond to an emergency or disaster that takes down your systems. Incident response is responding to a security incident, such as ransomware, malware, and business email compromise. If any of those incidents take down your systems for a significant amount of time or disrupt daily operations, your DRP will provide disaster recovery steps as needed.
Note: If you are also doing a Business Impact Analysis, you'll need to define things like recovery point objective (RPO) and recovery time objective (RTO). A disaster recovery plan cannot expedite how long it takes for your internal recovery strategies, but it will expedite how quickly you respond to disruptive events.
6. What Kind of Testing Do I Need to Do?
A few different types of testing need to be completed during the disaster recovery plan process. The first type of testing is called Tabletop Exercises. In this test, you determine a real-life scenario, such as a tornado hitting your building. What do you do? You grab your emergency response playbook and walk through the steps defined in the plan. You can then determine if you are missing any steps or if there are pieces of your infrastructure that aren't captured in the plan.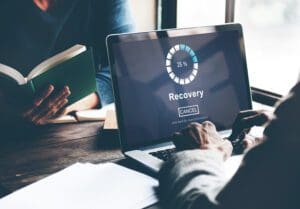 Another type of testing is for data backups and restoration. You'll test to ensure the backup is working correctly and covers all your critical applications. You'll also need to test how long it takes to restore data from the backups and if you can quickly resume key operations. This testing confirms your estimated recovery time and dictates the procedure order. Business-critical systems should be prioritized over less essential applications.
7. How Does Disaster Recovery Fit into a Bank's Business Continuity Management?
A bank's Disaster Recovery Plan takes a comprehensive approach. Regulations require banks to do a Business Impact Analysis (BIA) across all departments.
A bank's Business Continuity Plan (BCP) must show what's critical to keep processes up and running across the organization. Each department has defined critical operations, not just IT, and what it takes to ensure continuous business operations. This way, all business operations are defined and have emergency response procedures to enable rapid recovery during a disaster.
8. Why Do I Need a Business Impact Analysis?
Sometimes, for regulatory requirements or just for preparedness, organizations complete a Business Impact Analysis along with their disaster recovery planning. This analysis allows you to outline your business functions for each department. For example:
What are the critical business functions for each department?
What critical applications do they use?
What critical vendors are they using?
Answering these questions will help you define your business functions in the Business Impact Analysis, which helps to build your Business Continuity Plan. If you are a bank, regulators require that you do a Business Impact  Analysis.
Need Help Developing or Testing Your Disaster Recovery Plan? Call Now!
A Disaster Recovery Plan is an essential document that will simplify the disaster recovery process and enable you to return to normal operations faster. Depending on your industry, you may need both business continuity and disaster recovery. It is important that the processes are in place and regularly updated because you never know when a disaster will strike.
Whether you have simple or complex business operations, now is the time to ensure your disaster recovery process is in place and up to date. If you need help developing or testing your Disaster Recovery Plan or aren't confident in your current business continuity approach, give us a call today. We have helped many businesses like yours plan for the inevitable and have the business expertise you need to feel protected in the event of an emergency. Call now!