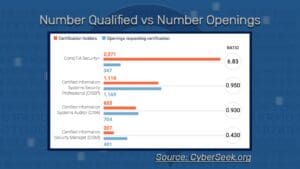 In the wake of  Colonial Pipeline and all the related news stories, cybersecurity hiring may be top of mind for organizations with IT security needs.
An obvious solution is to "hire someone" to address security needs. But cybersecurity hiring is not an easy fix.
The latest numbers from CyberSeek, an organization focused on the cybersecurity workforce, show there are nearly 500,000 cybersecurity job openings in the U.S. – and a gap in qualified candidates.
In our region, there are more than 7,000 cybersecurity jobs open – 5,064 in Tennessee and 2,320 in Kentucky. (CyberSeek did not break down the numbers into types of openings.)
To be sure,  four times the number of candidates hold the CompTIA Security+ credential for the number of U.S. openings requiring it.
It is good to have people who can execute, but you need leadership to guide them.
And unfortunately, for higher, strategic-level openings, there is a significant gap. For example, there are 39,000 jobs requiring the Certified Information Security Manager (CISM) credential. But only 16,000 people hold that certification.
Keep in mind, too, that many of the certified may already be employed – and not in the job market. Demand makes these expensive positions to fill.
Cybersecurity is now a board-level risk management issue, requiring a strategic approach. You need someone who can assess your cyber insurance coverage, prepare for regulatory examinations and audits, and develop initiatives to keep your organization secure.
If you were to work with us, you would gain someone on top of the issues and developments, bringing the latest cybersecurity protections, and experienced in working with examiners and compliance audits.
We also help our clients to develop IT budgeting, forecasting, and risk management.
Consider outsourcing some of your needs to us. We invite you to review our fractional-share virtual Chief Information Security Officer (vCISO) service, as well as our Managed Cybersecurity & IT Compliance service.
Download some of our white papers, then schedule a 15-minute chat today to see how we can be a solution to your needs!
More Resources: