Have you ever heard the phrase, "You're only as strong as your weakest link?" In terms of cybersecurity, that means that even if your organization's security and compliance measures are top-notch, you are vulnerable to cyberattacks if you have a vendor who doesn't have the same diligence.
An effective vendor management program can help you mitigate those risks, control costs, and ensure you can comply with the necessary regulations. At ImageQuest, our Information Advisory Services  can help manage vendor relationships for you and ensure your bank is prepared for its upcoming examination. Get in touch with us today to get started managing your vendors.
What Is Vendor Management?
Vendor management is the process of assessing the security posture of your downstream vendors that  your business relies on to deliver products and services. Vendor management enables banks and other industries to control risks and ensure that vendors meet service level agreements (SLA) while aligning with business goals.
For industries such as banking, a good vendor management process is essential since many core processors,mortgage platforms, IT, marketing, and other services are outsourced to third-party vendors. Banks must manage vendor relationships effectively to ensure vendors comply with regulatory requirements and maintain data protection standards.
What Is a Downstream Vendor?
A downstream vendor is any person or entity that provides services to your business. Some examples include:
Internet providers
Outside billing firms
Building maintenance technicians
Printer and copier services
IT companies
While these may be mutually beneficial relationships, some risks are associated with these relationships that must be managed. For example, in 2014, Target hired an HVAC company to monitor energy consumption as a cost-saving measure. Unfortunately, the HVAC company's security was weak enough to allow a  hacker to plant malware on the HVAC company's system. When the HVAC company then logged in to Target's system to do their work, the malware spread into Target's internal systems, including payment data.
You likely have many vendors who have access to your organization's sensitive data. If one of those vendors is compromised or doesn't adhere to the same level of security and compliance measures as you do, your bank or organization could be the one that suffers. That's why a vendor management system by an IT company is crucial to monitoring your vendors.
Why Do I Need to Hire an IT Company for Vendor Management?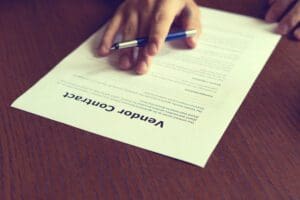 Your vendor management strategy is critical to the well-being of your company. You could handle these supplier relationships yourself, but do you have the time, resources, and confidence to do so? When you engage a managed security services provider (MSSP) to assist with your vendor management program, they bring the skills, resources, and experience to ensure your vendors don't increase your cybersecurity or regulatory risks.
The IT vendor management process has the added benefit of finding vulnerabilities in a vendor's cybersecurity strategy that a hacker can use to infiltrate your business. It's likely not in your wheelhouse to assess vendors' security practices, but it is for an MSSP like us.
What are the Four Pillars to a Vendor Management System?
When you are assessing vendor management services from an MSSP company, be aware that not every company is equal. So how can you differentiate between a good IT vendor management strategy and a poor one? The best vendor management systems  will answer four key questions:
Do you have a full list of your organization's vendors and their services? Having a full list of your vendors allows you to easily identify the mission-critical vendors that are essential to your daily operations. Some of these critical vendors frequently transmit your customers' data or store non-public information.
What's your process for conducting vendor due diligence? When your examination time comes, how will you demonstrate that you exercised the proper due diligence when selecting your vendors? Vendor management best practices include keeping proper documentation that lists the following:

The key performance indicators you expect your vendors to meet, such as complying with appropriate regulations and maintaining up-to-date data security measures
How do you determine their compliance with those measures
The results of your due diligence

Have you risk-rated your vendors? Risk management is a crucial aspect of having relationships with vendors. You need to rate them based on which service(s) are critical to your business operations, and which presents a low risk to your data and operations.
Do your vendors have their own vendor management system? If your critical vendor contracts use other third-party companies to deliver their services, do they have an effective vendor management process? Do their vendors have data security issues that could be passed onto your organization? Good vendor management will discuss and analyze the risk posture of your vendors and your vendors' vendors.
How Does ImageQuest Ensure Compliance with Regulatory Requirements?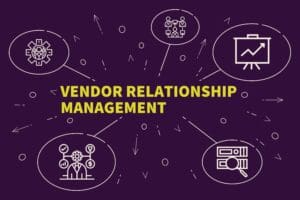 When you need a vendor management system from an MSSP company in Tennessee, Kentucky, Indiana, or West Virginia, ImageQuest is the best choice for your business. We ensure your vendors comply with regulatory requirements from the vendor procurement process and throughout the vendor management lifecycle. We can look at vendor performance holistically, allowing you to consolidate processes, control costs, and allow more time for innovation.
In addition, we can help with the following:
Enhancing your vendor strategy by expanding your vendor options and identifying the best fit for your company's budget and needs.
Potentially achieving better pricing and rates by leveraging vendor competition by considering multiple vendors.
Building stronger relationships with vendors, which in turn can lead to better collaboration and communication efficiencies during technology implementation and outsourcing.
Supporting IT governance by incorporating vendor management to align with relevant regulations to manage compliance and risk.
Anticipating vendor issues by maintaining a strong relationship with vendors, enabling businesses to resolve problems proactively before affecting ongoing operations or escalating into more significant problems.
By promoting a proactive approach to vendor management, organizations can ensure an end-to-end perspective, including establishing service requirements and strategies, selecting a provider, negotiating the contract, and monitoring, changing, and terminating outsourced relationships. This approach reduces the risks associated with vendor management by prioritizing performance and maintaining an efficient communication flow between organizations and vendors.
Get a Vendor Management System by an MSSP Company Today!
When you need a vendor management system by an IT company, turn to the experts at ImageQuest. We'll help you practice good vendor management, help with vendor sourcing, and ensure your vendors deliver on their contract terms. Get in touch with us today to get started!
Resources: