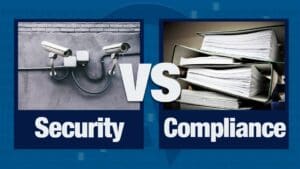 What is the difference between compliance and security in technology?  Is there a difference?
Yes, there is a difference. While cybersecurity and IT compliance have elements in common, they are still different protocols.
Consider the definitions:
Cybersecurity is implementing and managing security controls to protect an organization and its assets.
Compliance is implementing and managing security controls to meet a regulatory body's recommendations or requirements.
And now some examples:
You can be secure by implementing multiple security measures. But unless you document those security measures, you may not be compliant.
You can be compliant by strictly following regulatory requirements, but if those requirements don't keep up with the ever-evolving attack landscape, you may not be secure.
Elements security and compliance have in common include, for example, security measures such as enforcing multi-factor authentication across the board, reviewing the security measures of one's Vendors, and continually practicing and updating a Disaster Recovery Plan.
Documenting your cybersecurity steps is a compliance requirement, but it also can be required to do business with a cyber insurer or a significant target prospect.
Security and compliance can be a rabbit hole if you haven't focused on those requirements much previously. We suggest hiring an expert such as ImageQuest to complete a Risk Assessment as your first step.
A Risk Assessment will give you a road map on what steps you need to take and in what order you need to take them. It will also give you a better understanding of your security posture and whether you have the compliance measures to satisfy that large prospective client.
Some key steps in your journey to better security and compliance include an ongoing employee security training program to keep your team savvy about evolving cyber attacks and a regularly updated Disaster Recovery Plan.
A Security Management Plan devised by your leadership also will help guide your organization's efforts to button up your systems.
Organizations should thoroughly understand where their business records are stored, where they pass through, who can access them, and what happens when a record is no longer in use.
Book a confidential discussion to learn more about how ImageQuest can help you achieve the security and compliance elements needed to grow your business.