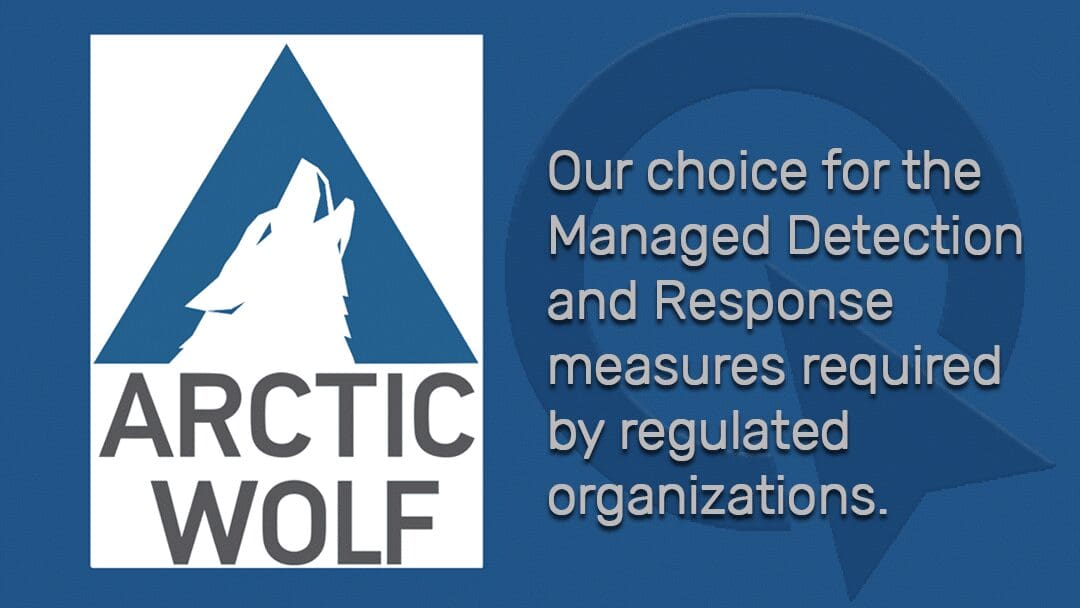 Today's world includes unrelenting attempts by hackers, some sponsored by foreign countries, to steal data, damage systems, and halt operations.
Hackers' skillfully-written emails, with fraudulent links and attachments, increase the likelihood that all organizations will experience an attack sooner or later. Such phishing emails are the source of most breaches – and impossible to block entirely.
We recommend a layered defense to stop as many attacks as possible. This includes a monitoring and rapid response solution for when an attack gets past your perimeter.
For us, that solution comes from Arctic Wolf and its Security Operations Center (SOC) offered as a service (SOCaaS.) Arctic Wolf specializes in providing monitoring and risk assessment for threats – breaches, Distributed Denial of Service (DDoS), malware, crypto-jacking, data loss prevention, insider threats, and spyware.
Essentially, Arctic Wolf offers a fractional share model to provide Managed Detection and Response and other services. The fractional share model makes it much more affordable and faster to activate scanning and remediation than trying to spin up a security operations center in-house.
One of the many benefits of working with Arctic Wolf is the company assigns a Security Engineer and a Security Analyst as a customer's "Concierge Security Team." This team gains familiarity with the customer's network, systems, and software learns its "normal" behavior and provides specific guidance and expertise when problems arise.
Arctic Wolf subscribes to threat intelligence, keeping it abreast of new developments in malware and other attacks.
And Arctic Wolf uses artificial intelligence and machine learning, along with round-the-clock staffing, to provide focused, 24X7 vigilance over systems.
Just the staffing alone would be cost-prohibitive for many organizations, as well as potentially hard to find. A seasoned, expert security engineer is a highly competitive position, and there are many more jobs than qualified candidates.
Hence Arctic Wolf's fractional share model makes sense.
In the chart below, we've put together a list of what our customers gain when they add Arctic Wolf protection for their data systems.
In short, Arctic Wolf takes off your IT team's shoulders the worry of reviewing logs, staying up to date on threats, meeting regulatory requirements, and assessing multiple anomalies. We encourage all our regulated customers to add this valuable protection for peace of mind – and effective defense.