All the Latest in Industry Happenings—Here in the ImageQuest IT Blog
Get the latest cybercrime trends, tips for securing your data, compliance, and industry news. These are just some topics you'll discover in the ImageQuest IT blog.
Have you recently received a communication that initially scared you? Perhaps a notice that your credit card had unauthorized transactions, your bank account needed attention, or your favorite shopping site needed to verify some information to complete your latest purchase, which you knew was an important but last-minute gift? And this notice asked you to […]
Read More>>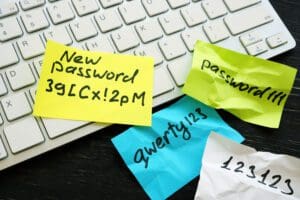 As a business owner or executive, you know that keeping your company's sensitive data secure is a top priority. However, with the growing number of cyber threats and the increasing complexity of managing passwords, it can be challenging to ensure that your business is fully protected. That's where a password manager for enterprise comes in. […]
Read More>>
Do You Have The Technology To Support A Fully Remote Workforce?